Promod batra and Vijay Batra "A Team of Father and Son"
Management Thoughts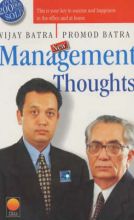 "A COW DOESN'T GIVE MILK. IT HAS TO BE EXTRACTED, DROP BY DROP"
Promod and Vijay Batra, father and son team have published a record number of inspiring motivational books. They are corporate management teachers with a down-to-earth attitude.
Promod Batra started his life working for Escorts and both his boss, Madan Agarwal as well as Escorts' founder H.P. Nanda gave him the initial impetus to grow, which he did, on his own. Promod is gracious, his easy manner and gray hair lending great weight to even the smallest bit of common sense wisdom that flavors his every day conversation. His workshops have always been very popular and are conducted in offices and factories around the country with the same companies requesting repeat performances every year!
Vijay Batra, worked with a top Japanese corporation in Tokyo and New York and brings his hands-on experience and knowledge of their success-oriented management techniques into his teaching in India.
Vijay, a down-to-earth motivator with an amazing personal success-story, consciously and happily follows in his father's footsteps, having given up a high profile career and a lifestyle others would kill for.
Vijay Batra is an MBA, from Pittsburgh University, USA and a graduate of the Japan Management Program from JAIMS, Hawaii, USA. He joined Kankaku Securities (subsidiary of Dai-Ichi Kangyo Bank) as a lifetime employee in 1987. He was promoted to Vice President of the New York branch in 1988. He has a symbiotic relationship with a Japanese think tank called PHP that allows him to introduce Japanese management techniques to the Indian corporate sector.
Most Popular Books:
Hope
Born to Win

You Can Heal Your Life

profitable Management Ideas from My 25 years with Escorts
Be a Winner Everytime: How a Positive Attitude Leads to Victory

Quotations for Success